Impress Your Guest With Unique Hotel Seating By Addon Furniture
People spend a lot of time in hotel lobbies. It can be to wait for their cab, waiting for the lady who is preparing or just waiting for the staff to help them. In all cases, for these people it is nice to be distracted or get some information on the surroundings of the hotel. Interactive Hotel Seating can help guests by providing them information on the availability of the rooms or, in modern hotels, it can let your guests book a room by themselves.
Contemporary, Comfortable Hotel Seating
Most hotel seating is old-fashioned and is not comfortable for the majority of the guests. Either it is too hard or you sink in to it. Our furniture is created with the best hard foam that maintains its' quality through the years. It is perfectly designed to be comfortable for everybody. The contemporary shape and appearance of the furniture makes it ideal for modern hotel lobbies. Because you can choose the upholstery and the color of the legs, architects have the freedom to match the furniture with the rest of the interior proposal.
Removable fabrics
On request, all of our furniture series can be manufactured with removable fabrics. The advantage is that you can dry clean the upholstery or chose a different fabric when re-decorating the lobby. All of our sofas are suited for hotels. However, Round Sofa and Modular Sofa have proved to be easy to fit in hotel lobby floor plans, because they can be placed around a column or they can be enhanced with plants.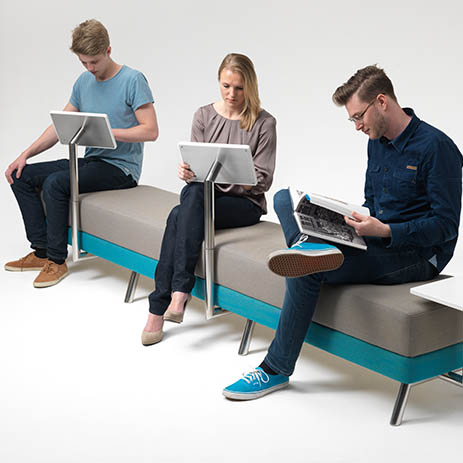 Want more information on the possibilities of Addon Furniture for your project? Please fill in the form or contact us directly by email or phone.