Dynamic Sofa
Why should interiors be static? Why should a hotel lobby look the same week after week? Why is the arrangement of your sofa the same when you are watching television as when you have people coming over?
The truth is that most of the existing furniture is designed to fit static interiors. But the world around us is dynamic, it shifts from day to day, requesting for modular and dynamic solutions. This is why we developed Dynamic Sofa. It is the first of our series that is designed for public environments as well as home interiors.
Ultimate multifunctional sofa
All elements of Dynamic Sofa are interchangeable in just a few seconds. This makes it the ultimate multifunctional sofa. The foam and construction of the seat and back are constructed in a very clever way, which enables it to have only horizontal and vertical planes, while the seating comfort is superior to most traditional sofas.
The wooden elements can be used to store books, magazines or throws while they function as a side table as well. Combining the large wooden box with the base of the ottoman, creates a beautiful upholstered saloon table.
Pick your own upholstery
At Addon Furniture we offer personal unique furniture. We can cover any of our sofas in almost any fabric. Your only limit is your imagination. Therefore, your furniture's colours, arrangements and finishes are completely up to you. This is the perfect way to create your own unique, signature style.
Designed by Koen Vorst and Dennis van der Burch.
More than 12 configurations possible
View all colours in our brochure.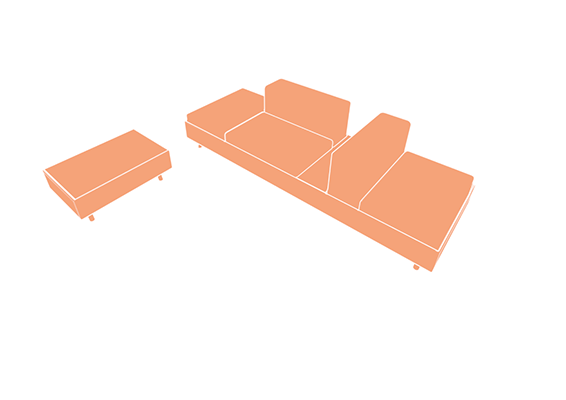 Dynamic Sofa
Beautiful multifunctional design
Different options available
Materials
Stainless steel or powder coated steel (RAL) feet
Wooden frame
Pantera foam
Upholstery
Measurements
840 x 2480 x 680 mm (w x d x h)
33 x 98 x 27 inch (w x d x h)
Downloads