Round Sofa – High quality & sustainable
Round Sofa
Traditional tree-benches inspired us with the shape of Round Sofa. It fits perfectly in entrance halls, hotel lobbies and other waiting areas, such as airports and hospitals. Due to it's soft seating and steady backrest, the sofa offers your visitors a very comfortable experience.
Adding attachables as, side tables, touchscreens holders or laptop tables to this sofa will make the wait an even more pleasant experience.
Perfect for around a column
Columns are often considered to be a waste of space, though we are all well aware of their importance. The Round Sofa design enables it to be placed around a column or to other architectural elements, which allows you to use the maximum available space.
Because the Round Sofa is available in every desired diameter, it can be adapted to your projects requirements.
Pick your own upholstery
At Addon Furniture we offer personal unique furniture. We can cover any of our sofas in almost any fabric. Your only limit is your imagination. Therefore, your furniture's colours, arrangements and finishes are completely up to you. This is the perfect way to create your own unique, signature style.
Curious how one of our sofas would look like in your environment? Addon Furniture offers you FREE VISUALS. Interested? Click here to get your free visual.
Available in different sizes
View all colours in our brochure.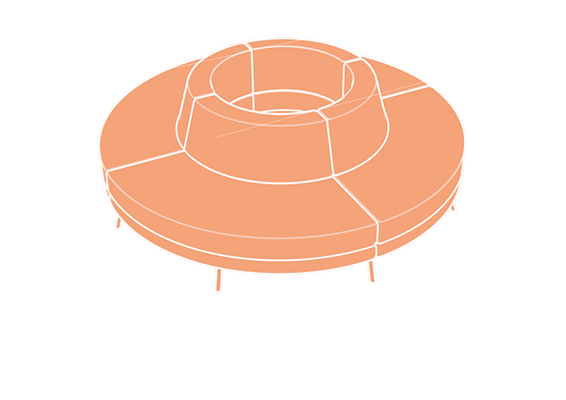 Round Sofa
Beautiful unique design
Ideal for around columns
Materials
Stainless steel or powder coated steel (RAL) feet
Wooden frame
Pantera foam
Upholstery
Measurements
2400 x 2400 x 700 mm (w x d x h)
95 x 95 x 28 inch (w x d x h)
Downloads
Round Lobby Sofa
The round sofa is perfect to use in any lobby. With eyecatching design, it can be placed easily around a pillar. Make the most out of the space in the lobby with this sofa.
A lot of our customers call this sofa: the round lobby sofa. Ideal to provide visitors an unique and comfortable experience. Every sofa is crafted to your wishes in terms of fabric and color. Also, the round lobby sofa can be made according to the measurements you need. 
Our lead designer (and owner) is happy to tell you more about the round sofa and how it can be used in the lobby of a hotel, hospital, animalcare facility or residence building. Plan a 30 minute meeting with him or contact us via e-mail. 
Circular & Sustainable sofa
Sustainability is very important for us. Addon Furniture products, such as the round sofa, are created with a caring eye to the environment.

What do we do to minimise our carbon footprint?
 

Only use suppliers in Europe to minimise shipping and transportation;

Sustainable production, recycle production waste;
Ship products with smart logistics;
Use only the packaging that is really needed;
Quality & sustainable fabrics, wood & steel
Want to know more about the sustainability? Check our page about quality & sustainability or contact us.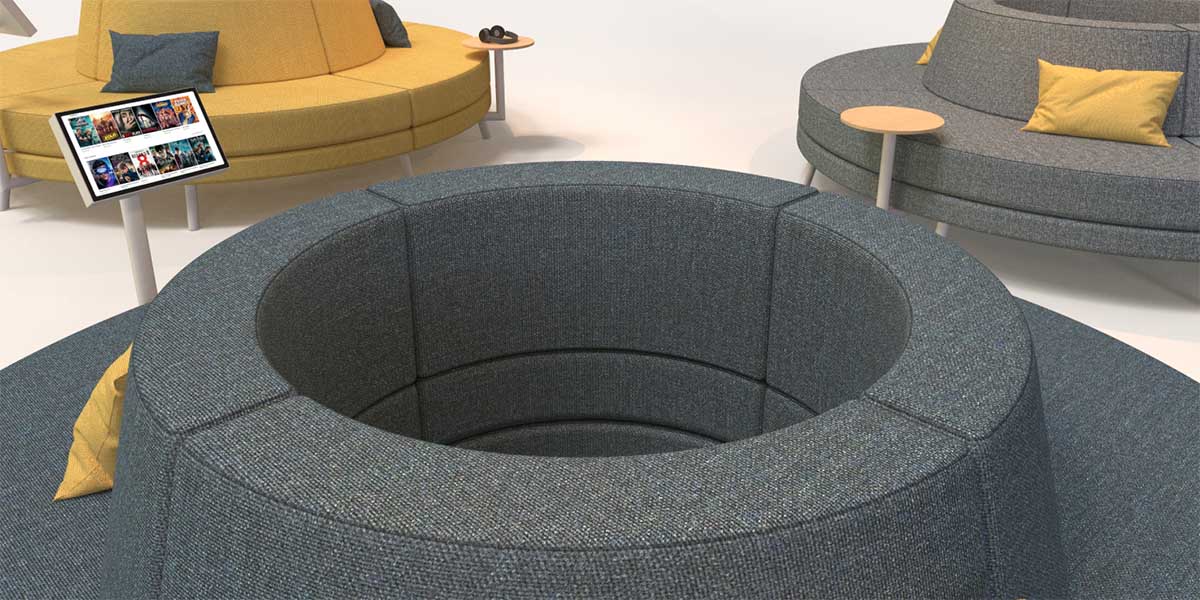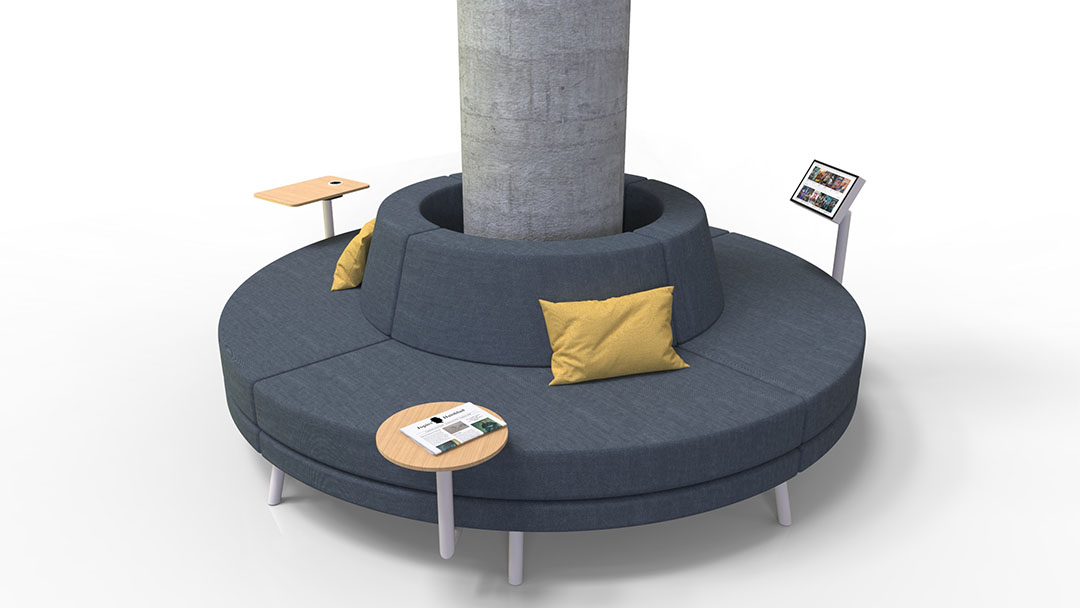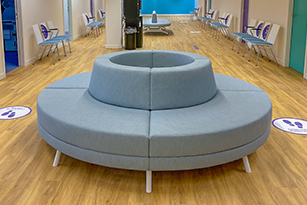 Matching Addons for Round Sofas
Addon Furniture is unique. We provide matching Addons for our sofas. It is easy to attach these Addons to the round sofa. Think of a laptop table, touchscreenholder or coffee table. It provides your visitors an unique way to get the most out of their wait while you provide them with a coffee. 
The Addons are high quality and sustainable, just like our sofas. Upgrade your lobby, waiting area or with a round sofa and an Addon. Check out all the options below. Contact us for more information about the sofas, Addons, delivery and more.